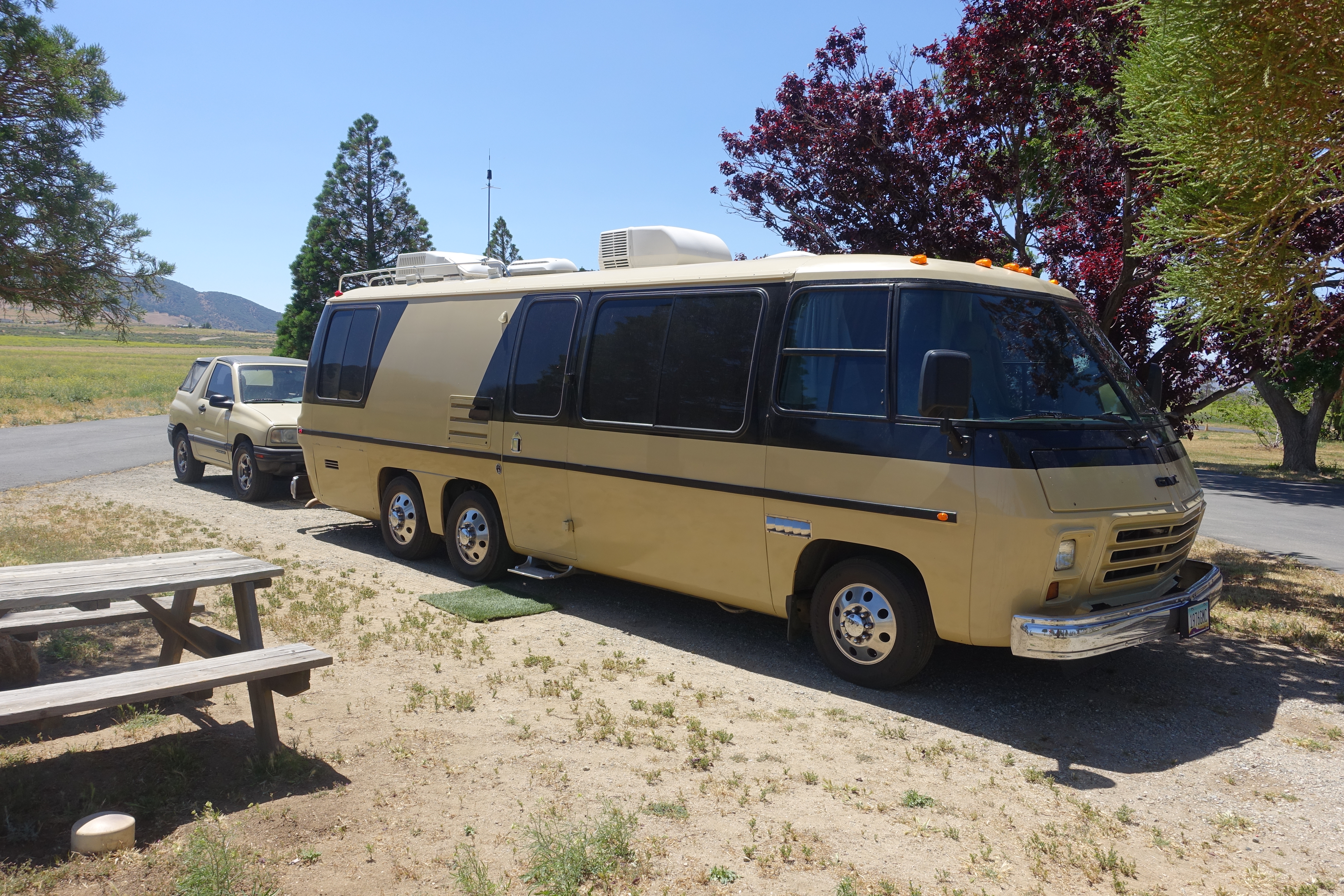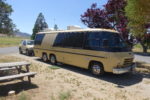 FOR SALE SOLD: Restored and Modernized – a 1976 GMC Eleganza. It's a beauty. Updated and modernized in every way. She (Barbie) was quite spoiled and has every bell and whistle we could afford in the last 11 years – everything from a FiTech fuel injection system to a drinking water dispensing system. Her interior is modern and clean – best floor plan ever, with long twin beds in front and a fabulous dinette in the back, all new maple custom cabinets, new flooring, new ceiling…..must see!!! HERE is a walk-around video I made to help.
Please note: this coach was an Eleganza II when we got it but it is now something a little different. Instead of maximizing the number of sleeping spaces we have opted to make it perfect for a couple. It now has twin beds in the front living space and a customized dinette in the back, taking advantage of the largest window in the coach. It is very comfortable for sleeping and the dinette is amazing – comfort with a view.
We are asking $29,500 for the coach – including miscellaneous spare GMC parts and manuals.
Below is a list of specific areas of the GMC and some improvements and changes that we have made in each of the areas. Depending on the area, there are links from our web site on some items and photo after each section if available.
Safety and braking have always been top concerns for us so we have done the following:
Applied GMC reaction arm 4-wheel disc braking on rear (no parking brake)
80mm brake calipers on front wheels
Dave Lenzi sensitized brake booster
100% Duty cycle high capacity auxiliary vacuum pump for brakes
Aqueous foam fire suppression system in engine compartment
Halon fire extinguisher in refrigerator compartment
Driving comfort improvements:
Rostra electronic cruise control
Both windshields replaced in last 8 years
Lumina wipers and blades
Drives and steers like a car – no wandering
Ramco remote control mirrors
Added lights and gauges: low fuel pressure light, voltage, engine vacuum, engine and transmission temperature
The drive train and suspension are in great shape:
Low mileage replacement 455 engine from Calif. government-maintained coach – better than rebuilt (52,000-mile engine installed at 168,200 – now 172,000 so 56,000 miles on engine)
3.55 final drive
Transmission rebuilt in 2012 (about 40K miles ago)
JR Slaten SS engine oil cooler lines
New starter
Fuel hoses replaced 2007
Dual SS Magnaflow mufflers
KYB shocks (old but still good)
OEM knuckles have zerk fittings for easier maintenance
Applied GMC Quad-bag rear suspension with VIAIR 480C compressor and SS tank
Tires replaced in 10/2014 with BF Goodrich Commercial T/A's
Most GMCs and Barbie included have issues with hot weather. Every year when Summer approaches the discussions on the GMCnet (and now Facebook) migrate toward fan clutches, temperature gauges, fuel vapor issues ("vapor lock") and overheating concerns. Living in Southern Arizona and its Summer temperatures of 110°F to 120°F exaggerates these issues so we have done lots to address them and they are now gone:
Aluminum radiator
Never any fan noise with medium-duty fan clutch
Electric fuel pump – no mechanical
FiTech EFI system with FCC – Paterson carburetor is backup
exhaust crossover ports blocked
Onan 6K generator works great
pertronix ignition (on flywheel)
upgraded control board
new mount cushions
new muffler
Genturi exhaust for Onan
House systems:
Dometic RM2652 2-door refrigerator (120V + propane 1998)
Macerator
New SS water heater
Intellipower PD9245CV power converter
Surge tank and whisper-king water pump in house water system
Dual water pump switchs with indicator lights
New Suburban 19K BTU furnace in 2014
Tri-metric battery meter
140 Watt solar panel and charge controller
House and chassis battery shutoff switches (Blue Sea)
Exterior appearance: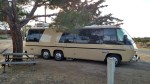 Eagle 16" wheels (non-hub-centered)
Through-bumper trailer hitch
Interior updates and upgrades:
" order_by="sortorder" order_direction="ASC" returns="included" maximum_entity_count="500″]

Share on Facebook