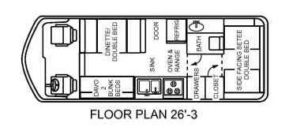 When we bought the GMC, a 1976 Eleganza II, it was a pretty vanilla version of a GMC Motorhome. We used it that way for about the first 4 years of ownership. About 7 years ago, in 2010, we removed the side-facing setees and converted the back section into a permanent bed. We also removed the dinette that converted into a double bed and replaced it with a couple of Honda Odyssey middle bucket seats and a round table. The davo on the driver's side that converted into a bunk bed was removed in favor of a sofa that I made from wood with two large and very useful drawers under it.
We used the coach that way until about a year ago – mid-2016 – when we started sleeping in separate beds, mostly because of the difficulty of getting in and out during the night. When this started I added the ability to convert the sofa into a standard-sized twin bed by topping it with a folding piece of plywood that allowed the seat and back cushions to combine and form the mattress. This made a comfortable bed but we don't like sleeping separately.
On our trip to Coos Bay in September of 2016 we lost our engine and had a two-week adventure installing a "new" one. One of the reactions to this incident was a loss of faith in the GMC and the expressed desire (by some of us) to give up on the GMC and find something more reliable. We did shop around and convince ourselves that there was nothing like a GMC available – considering size, floor plans, and cost ($100K is a good estimate). Reliability is always and issue but the floor plans were the biggest issue and some of the ones that might have filled the bill had twin beds which made us reconsider them as an alternative to one big bed.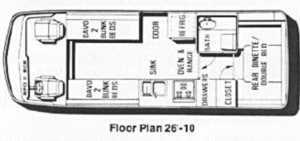 With twin beds becoming an alternative we took another look at the GMC and saw some new possibilities. Carol, from day 1, loved the idea of a dinette in the back where the permanent bed now was. When we bought the coach the side-facing setees were set up and looked very inviting with that giant rear window. There was no table back there and I doubt it ever had one but we could imagine it. We decided to remove the permanent bed to install our own version of a rear dinette and to remove the bucket-seat dinette (which we had come to dislike a little anyway) and replace it with a mirror-image couch like the one I had been sleeping on. With both couch/beds open for sleeping there would be about 14 inches of space between them – plenty of space to allow getting in and out of bed during the night without disturbing each other. The benefit of using the areas in front of the entry door and the kitchen for the twin beds is that there is more room for slightly longer beds

Share on Facebook