This blog is about us, Armand and Carol, and our GMC motorhome "Barbie" (short for the Barbiemobile).  We will talk about our travels and our trials (maintenance, repairs and upgrades) with Barbie.  She's a lot work but she's worth it.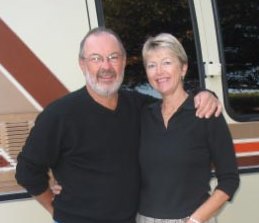 Our website is organized to begin with this About Us page.  From here you can choose the History or the Topics tab at the top left hand side.  The History is a record of the purchase and a summary of the trips we've taken so far.  The Topics page offers several choices: Technical topics, RV Park Reviews, and Trips & Rallies.  Technical topics should be of interest to other GMC owners, especially those who work on their coaches themselves.
And finally, the Trips & Rallies tab.  That tab contains the blogs for each of the past few trips and rallies.  This is something Armand uses to discuss the technical issues with other GMCers and to show the sights and scenery to our family and friends.  When you select one of the trips or rallies, you will see the final page of the blogs for the latest trip.  There will be a list of trips to choose from on the right hand side (like there is on this page).
We like having a record of our travels and this is a good way to document it and share it at the same time.  You can "Follow Us" by getting on the site every few days or just check in occasionally to see what's new.  We hope you enjoy our Blog and we look forward to any comments you might have.  Happy Trails to all of you who read this!

Share on Facebook